With a lot of the world hunkered down at home, what is a primary substitute for our usual night-time activities? Netflix!
Truth be told, it took less than an hour to create this dashboard for what you should be watching on Netflix tonight. With Qlik's associative engine, in tandem with the way this dashboard is structured with selectable charts, filter panes, and a detail table, I was able to drill down to which movie I should watch in seconds, when we all know it can take hours scanning Netflix to decide on what to watch. And you know you'll end up choosing the same show you've seen five times anyway. With just a few selections on "type" and "category", and utilizing Qlik's native wild-match search where I entered "Brad Pitt", I was able narrow down my decision tree and see a list of movies that met my criteria.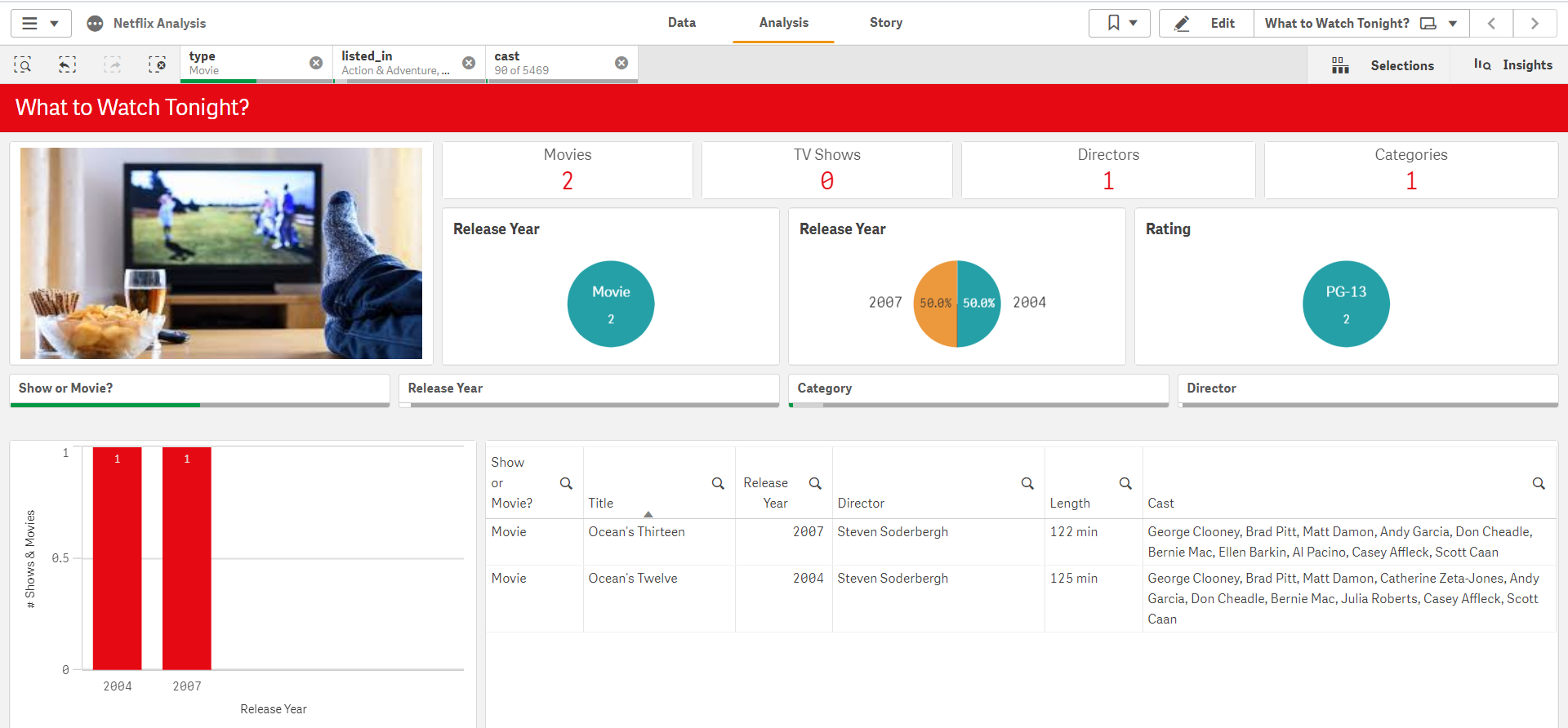 The reason I made this trivial dashboard is to demonstrate how easy is to get something in play with Qlik Sense. The tool rapidly expedites your time-to-value and makes your self-service BI experience unique by making it very simple to extract, transform, and load data, while simultaneously giving you endless opportunity for advanced data modeling and state-of-the-art visualizations to serve the needs of your business.
This example should convey to you just how quickly Qlik as a BI solution can help you solve the problems you face in your business. Like my movie selection choice, decision making time and quality can be improved, and what used to take you hours comparing spreadsheet figures to SQL queries to narratives from meetings can be achieved quickly through the use of a modern BI tool like Qlik. Spreadsheets are a great way to analyze data, but using them should not be your only method. The magnitude of differences between numbers in cells is often lost in a spreadsheet and it can take an advanced visualization tool to truly see and understand these differences. Additionally, the ability to drill down into dimensions and evaluate combinations with respect to the measures that mean the most to you can significantly decrease your time to decision, allowing you to start making the next one.
Now go ahead, Pitt and Clooney are waiting. If you've been searching for a way to make better business decisions using data, please reach out, we're here to help!